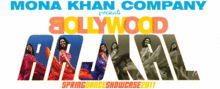 Lights! Music! Action! The Mona Khan Company's highly acclaimed dance troupe, fabulous instructors, Emerging Performers and students will mesmerize you with an incredible display of talent, the best Bollywood music and unsurpassed choreography.
The company has an impressive repertoire which includes performances with Bollywood's biggest star - Shah Rukh Khan, an NBA half-time show, a finale act performance at the prestigious 32nd Annual San Francisco Ethnic Dance Festival...to name just a few. Also, the company made it to the Top 48 on America's Got Talent last year and were chosen out of 70,000 contestants across the nation.
The biggest Bollywood resident show in the Bay Area is a not-to-be-missed event - join the Mona Khan Company at Bollywood Aaj Kal (Spring Showcase 2011), and perhaps your Bombay dreams will come true?
SHOW DATE & TIMES:
Sunday, May 22nd
Show 1: 11:00am
Show 2: 2:30pm
Show 3: 6:30pm
There is no intermission during the show. Each show is approximately 2 hours long.
Check out the 'Show Lineup' link on this page:
http://www.monakhancompany.com/springshow2011.html
TICKET PRICES:
$20, $25 and $30
V.I.P Tickets: $50
Guests who purchase V.I.P tickets have access to the best view in the auditorium! Guests don't have to wait in line to enter the theater - they can jump to the head of the line. Also, each V.I.P ticket holder will receive a Mona Khan Company aluminium sports water bottle! Details will be emailed to you the week before the show.